Neighbor of the attacked children: The Albanian young man brazenly showed me a small knife, tried to hide the big one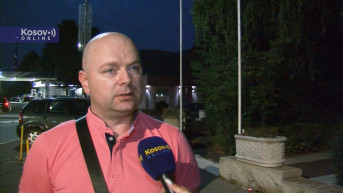 Source: Kosovo online
Serbian children, attacked by an Albanian man with knives in North Mitrovica, fled to a nearby building, where they arrived visibly shaken, their neighbor Milan Djurovic told for Kosovo Online, who also called the police. He says that he came to the playground, where several Albanian boys were playing basketball, one of whom brazenly admitted to him that he pulled out a small knife, and then tried to hide the big one and throw it in the bushes before the police arrived.
Djurovic says that the incident happened around 5:30 p.m.
"I reacted at the same moment and went down to the playground. There I saw a couple of guys playing basketball, and an Albanian girl who was translating. I asked them if anyone had taken out knives, and they first pretended to be silly, so one of them brazenly said - 'I am,'" said Djurovic.
When he asked him to show him the knife, Djurovic pointed out that he first took out a small knife and denied that he had another one.
Djurovic then called the police.
"I saw that the boy was moving 10 meters away from me and was trying to do something. He tried to throw the big knife from the bag he was carrying into the bushes. I asked him to hand over the bag to me, which he refused, so I grabbed his bag and closed it. At that moment, the police patrol arrived, I handed the bag over to them and told them what happened. The policemen took out a small knife, a large knife and a pair of sneakers from the bag," said Djurovic.
Djurovic says that the police, after examining the bag, spoke to the perpetrator of the attack in Albanian, called his father and brought him to the police station.
Djurovic soon went himself to the police station to give a statement.
There he learned that the prosecutor had ordered an investigation to be opened.