"Resistance at every step" graffiti appeared this morning in Leposavic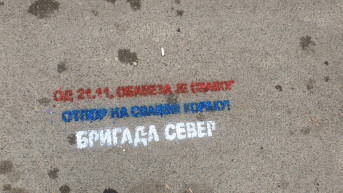 Source: Kosovo Online
In the main streets of Kosovo town Leposavic (24. Novembar and Vojska Jugoslavije Streets), in front of shops and at pedestrian crossings, graffiti appeared calling on citizens to resist.
"As of November 21, resistance at every step is everyone's duty. North Brigade," the graffiti reads.
Just a reminder that in the main street of Severna Mitrovica, as well as on the city promenade, a large number of graffiti appeared yesterday calling the citizens to resist due to the decision of the Kosovo government on the new "RKS" vehicle license plates implementation and the announcement that starting from November 21 those who keep "KM" plates will be fined with 150 euros.