The Football Federation of Kosovo filed a complaint with FIFA, demanding that the Football Association of Serbia be fined for the map of Kosovo on the Serbian flag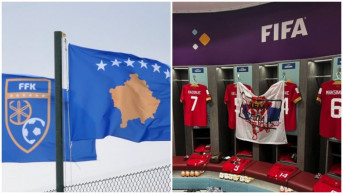 Source: Telegrafi
The Football Federation of Kosovo announced that they filed a complaint with FIFA today regarding the placement of the flag of Serbia with the map of Kosovo on it, in the locker room of the Serbian football team in Qatar. At the same time, they believe that it is unacceptable for this act to pass in silence and demand that FIFA fines the Football Association of Serbia for "aggressive action and against the values that football conveys", Telegrafi reports.
According to the Football Association of Kosovo, before the match between Serbia and Brazil, a flag was placed in their locker room with a map of Kosovo with the colors of the Serbian flag, with the inscription "No surrender".
"Such acts of chauvinism have no place at a sports event, and even less in the facilities where the biggest event of world football is held. The Football Federation of Kosovo, as an equal member with all other FIFA members, requires this institution to take sanctioning measures against actions that incite hatred between nations. and which are against human values. Football, as the most popular sport in the world, conveys the values ​​of unity and the essence of division, while this aggressive act does not coincide with such values, so it must be punished," said the Football Federation of Kosovo.
The Federation emphasizes that the World Cup should be a place where peace prevails.
"As Europe and the world face a major crisis as a result of Russia's unprovoked aggression in Ukraine, such a major competition as the World Cup should be a place where calls for peace prevail, and not be used to incite hatred between nations. Kosovo is an independent and democratic country, with maximum respect for human rights; accepted by the most powerful countries in the world, and as such it will continue on its path, regardless of provocations such as the latter," the statement said.
The Minister of Culture, Youth and Sports, Hajrulla Ceku, reacted to this and asked FIFA to take concrete steps, since the Football Federation of Kosovo was, as he said, a full member of FIFA and UEFA.
"Disgraceful images from the locker room of Serbia, showing messages of hate, xenophobic and genocidal messages towards Kosovo while exploiting the platform of the World Cup," Ceku wrote on Twitter.