Gvozdenovic, coach of Albanian Skenderbeu: Football speaks all languages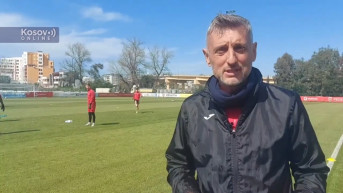 Source: Kosovo Online
Former Yugoslav national team member and Red Star captain, Ivan Gvozdenovic, after finishing his football career, went into coaching and today leads Skenderbeu, a second division team from Korce, in the southeast of Albania. His passion for football brought him to this country, and now, as he tells Kosovo Online, he feels at home.
He adds that he fell in love with the country and the people and that he has everything he needs, the only thing he misses is his family and drinking the first-morning coffee with his friends from Bor.
"I don't know if it's fate or what, but I feel here like I'm the coach of Red Star. Everything is red and white for us. Our seats in the stadium are red and white. The equipment we play in is the same as Red Star's, only the coat of arms is different. I feel like I am the coach of Red Star, maybe one day I will be. We are like a small Marakana. As far as I'm concerned, it's a nice life here. I also lived in Tirana, now I currently live in Korce, in a beautiful city, where people are good, normal, the city that has the most Orthodox churches, Orthodox people, so what they say, thank God, is good for me," Gvozdenovic says. 
During his career, Gvozdenovic played for several Albanian clubs, Kukesi, Tirana, and Skenderbeu, with whom he won everything that can be won in football. Along the way, he finished a coaching school in Albania and got a UEFA A and UEFA PRO license, and started working as an assistant coach. As the first coach, he worked in Saudi Arabia, Amman, and Romania.
When asked whether Albanian football was now played in the Serbian way, he said the following.
"We are playing beautiful football now, whether it is Albanian or Serbian, it doesn't even matter, football speaks all languages, the boys are good, they are young boys who listen and learn. I have a good group of guys, it's going well at the moment and we're getting along well for now," Gvozdenovic says.
The club he is currently coaching, Skenderbeu from Korce, whose biggest rivals are Dinamo from Tirana and Flamurati from Vlore, is one of the most famous Albanian clubs. He played twice in the Champions League. He competed against Belgrade's Partizan. He is currently in the second league. When Gvozdenovic came to the club as a coach, they were seventh in the table, today they are first. There are five rounds left until the end of the championship of the second Albanian league, and the ambitions of the former Red Star star are to move to a higher level of competition. For that venture, as he says, the leading team has great chances, because there is still a month and a half left until the end of the championship. He denies that there is match-fixing in Albania.
"We know who does what, what is whose job, we are professionals, the club has played in the Europa League twice, so there are no such things here," Gvozdenovic claims and notes that he hopes that after the end of the fine, which it has from FIFA and UEFA, Skenderbeu will start again on the paths of old glory.
Gvozednovic started his football career in his native Bor. As a pioneer, he signed for the Red Star, where he passed all selections. In order to develop as a player, he had to go, as he says, to Radnicki from Pirot, then to Napredak from Kruevac, and then to Milicionar. At the age of nineteen, he got a chance from Slavoljub Muslin and for four and a half years he played for the first Red Star team, which he led as captain for the last year. From the Red Star, he went to Belgium, where he won trophies and played in the Champions League, and then briefly to France. Then his career, as he told Kosovo Online, went downhill.
"Due to a serious knee injury from which I was not able to fully recover, I could no longer play top-level football. I continued at some intermediate level, played in Ukraine, Greece, and finally decided on Albania. I think it was a good move. I had two options to end my career at the age of 32 or to play until I was 37. At that time, I wasn't at the level I was before, so that was my reality. I spent four and a half years here as a player, I won everything I could win. I got the most out of my football career. Now I do different work, but it is work that fulfills me. I'm no longer a player, but I'm a coach. It's a little more difficult and demanding now," Gvozdenovic notes.