Germany versus Macron: Is Berlin's message about visa liberalization a sign of divergence from Paris in its policy towards Kosovo?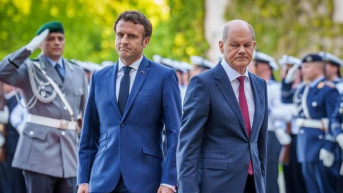 Source: Gazeta Express
Just a few days after Emmanuel Macron threatened to review the visa policy if the Franco-German proposal was not implemented, which many interpreted as a message addressed primarily to Kosovo Prime Minister Albin Kurti, a counter came from Berlin - for Germany, this is not an option for conditioning Pristina.
These different messages from the two key EU countries, which until now have practically traced the policy of Brussels when it comes to the dialogue between Belgrade and Pristina, opened the question of whether this is a sign of their divergence in policy towards Kosovo.
It is no secret that Kosovo and Germany have close political relations. Berlin is seen as Pristina's biggest ally within the EU, and Kurti's "tough" attitude when it comes to the crisis in northern Kosovo in recent months is often attributed to the tacit protection he receives from this country.
The message that Berlin is not considering the suspension of visa liberalization for Kosovo, which should come into force on January 1, once again apostrophized Germany's practice of avoiding conditioning Pristina on anything, even though it has mechanisms for that.
Dr. Aleksandra Kolakovic, a senior research associate and a good expert on French-German relations, reminds for Kosovo Online that the continuation of the dialogue is expected as early as next week, and indicates that all the initiatives and visits of the EU Special Envoy for Dialogue, Miroslav Lajcak, both in the Balkans and in other European countries centers, are connected with Macron's statement. She indicates that Macron is currently more interested in the Western Balkans area because most of his policy relies on success at the foreign policy level.
"This statement should be viewed in the same way, and it was expected that he would react when the summer break is over and when the issue of continuing the dialogue is put on the agenda," she added.
When asked whether Germany's position that visa liberalization was a done deal for them and that they would not reconsider that decision showed that Kosovo Prime Minister Albin Kurti had the unequivocal support of Berlin for all the actions he had taken in the previous period, Kolakovic said that there were more major global players who were involved in the events in Kosovo and were directly interested in it.
"Of course, the United States, as well as other countries, has a great influence on Pristina and Albin Kurti, and it should be seen from their perspective that the decision on Kosovo's independence was made earlier. It is a period of 15 years, during which the recognition of independence by other countries is moving in stages. In that context, we can say that Pristina has some kind of advantage in all of this, but on the other hand, when these statements are made, they often refer to both sides, which shows the role of an independent arbiter that the international community tries to preserve," she says.
Kolakovic points out that Kurti's moves should be viewed in another way.
"They keep him in power and enable him to stay in power. His nationalist and chauvinistic policy is for internal support, so that as the leader of the Kosovar Albanians he could enter into negotiations. Now the question is how he will moderate his views. It is certain that he is doing his maximum so that at some point, through diplomatic negotiations, he can achieve a 'concession' that would actually look like his withdrawal, considering that in the last period, he had an extremely aggressive attitude," she says.
As she adds, in those actions there was no respect for what was signed and what the Franco-German agreement represents; it was even the opposite of that. However, as she states, the Franco-German agreement is the framework in which the current dialogue is conducted and will continue unless some circumstances change.
"For now, this is the basis and I believe that it will be the basis in the future as well," Kolakovic said.
She points out that France and Germany had different opinions on other issues as well, not only regarding the Kosovo problem. Commenting on Macron's statement about the review of the decision on visa liberalization, Kolakovic indicates that the French President also mentioned the possibility of some economic interests of France and other EU countries being reviewed.
"It is necessary to look at that statement in a wider context - first of all, the dialogue between Belgrade and Pristina takes place within the framework of the Franco-German agreement, and it is a platform that has not taken root yet because the road map is not realized and is not realized by work on the ground, although both the parties accepted this proposal. It is also necessary to take into account that both France and Germany have seen Kosovo as an independent state since 2008 and that the policy towards the Western Balkans is defined by the strategy from 2019, and within that framework, they also define these current statements," she states.
Also, as she says, that statement can be viewed in a broader context, in the sense that the Balkans is also viewed in an important security context.
In this sense, she points out that a war is being waged on European soil, more specifically in Ukraine, and says that what is happening in the Western Balkans is important for Europe because they cannot allow de-escalation of violence, that is, escalation is necessary.
She adds that Macron acted as the leader of Europe in the previous period and explains that he wants to position France even better in what he says is a change of architecture in international relations.
"So that statement should be viewed on several levels. We have had different opinions from France and Germany before. In this context, we must bear in mind that this statement is one of many and the question arises as to what exactly Macron wanted with it. We often observe everything from our perspective, the perspective of Belgrade, but this is another perspective - the perspective of Paris, on the other hand, we have visa liberalization, which is an important issue in the context of the European integration of the region," she says.
As she explains, in a period when the question arises as to what are the next stages of the European integration of the region, by wanting to preserve the framework of visa liberalization, Germany wants to offer new hope to the region and, from a strategic geopolitical point of view, given that the region is very important in the context war in Ukraine, wants to preserve it.
As she adds, these are, after all, Macron's initiatives in connection with the European political community, where it is necessary to tie the countries of the Western Balkans more tightly to European policies, especially foreign policies that are in disagreement between Belgrade and Brussels.
"Of course, all this should be seen within the framework of everything that will happen in the coming period, not only on European soil, regional level, but also in the world framework," she adds.
The former head of diplomacy, Vladislav Jovanovic, points out for Kosovo Online that the marriage between Germany and France was forced after the Second World War, and he notes that until now they had differences, more or less, on certain issues.
"Germany has a traditional political interest in suppressing the influence and importance of Serbia, which is why it strengthens other elements. It did this during the breakup of Yugoslavia; Germany led it. As in the post-war period, when it wanted to support all those who limited the strengthening of Serbia's influence. So their support for the Albanians is also traditional. Now Germany is very interested in making the separation of Kosovo from Serbia definitive," Jovanovic believes.
He points out that Germany, along with the USA, is the biggest supporter of Kosovo, and especially of Albin Kurti, which gives him the wind at his back to behave as he does and not stick to many agreements. The rifts between Berlin and Paris over how harsh an approach should be applied to Kurti, he said, would not seriously shake the relationship between Germany and France.
"Germany and France have had differences up to now, more or less; they always look at each other slightly and sideways; they are potential rivals. It is a marriage out of necessity, as I said, they will always try to keep that rivalry under control so that it does not cross permitted limits, but they occasionally allow themselves to spark their interests. In this case, Germany will have to appease France in some way, by not being too provocative towards Serbia and understanding the request to first settle things in the EU and then move towards the EU. Higher interest is driving them to stay in the marital bed, whether they want to or not," Jovanovic says.
Avni Mazreku, a Professor of European law from Pristina, tells Kosovo Online that he believes that the positions and statements coming from Paris and Berlin are in most cases synchronized and that their main goal is common, which is how to stabilize and bring the whole region.
"In my opinion, there are no contradictions between Paris and Berlin when it comes to their approach, strategy, and policy to create the preconditions for EU enlargement and the integration of the Western Balkans. Those different political statements daily are based on efforts to create a more effective implementation of the main goal, and that is the incorporation of the Balkans into the EU," Mazreku says.
When it comes to whether Berlin's position that, unlike Paris, it does not consider the conditioning of visa liberalization for Kosovo, once again confirms that Germany is Pristina's strongest ally and protector, Mazreku says that Macron's statement on visas was more aimed at potential pressure of the citizens of Kosovo to decision-makers, considering that this is one of the key issues for Kosovo in the last ten years.
"When it comes to Berlin's approach towards the Western Balkans and each individual country in the region, I think it is largely in line, aligned with the policy of Brussels and the EU. But when we have a situation like we have now, and before, you mentioned the Frenco-German plan, which was initiated by two key EU countries, it shows more effort coming from the West in the implementation of that policy, which is the policy of Brussels towards the Western Balkans. I do not see it as a contradiction in the approach to the Balkans. Both statements, both approaches are in line with politics," Mazreku believes.
He does not believe that Kosovo Prime Minister Albin Kurti has the unconditional support of Berlin and that is why it is not giving up on the policy that led to the crisis in the north of Kosovo.
"I don't believe that Berlin's policy is determined by any individual, any politician, no matter who he is and no matter how strong his political power is, whether it is Vucic, Kurti, Rama. I think that Berlin's policy is primarily aligned with the interests of Germany and harmonized with the policy of Brussels - the stabilization of the entire Balkan region, the stabilization of Kosovo, and the stabilization of relations between Serbia and Kosovo. This is the interest of the EU itself, and especially of Germany, which is the biggest and main sponsor of every mechanism and policy that is created towards the Western Balkans. So I don't think that there is unconditional support from Berlin for any politician," Mazreku said.
He adds that the normalization of relations between Serbia and Kosovo is a key element of the stabilization and normalization of the entire region.
"The interest of the entire region is to be a part of the EU. That is why we see so many efforts, and political activities to realize it. We know that the Balkan countries will join the EU, regardless of how far they have come in terms of integration, in a package. At the same time, we also know that the Treaty of Lisbon regulated it well; no country can become a member of the EU if it is not recognized by all the member states of the Union. Five EU members do not recognize Kosovo, which holds the entire perspective of the region as a 'hostage' when it comes to joining the EU. Many EU countries, both those that recognize and those that do not recognize Kosovo, believe that the first step is the normalization of relations between Serbia and Kosovo, which is a prerequisite for the process of stabilization and association of the entire region. That is why we see so many efforts and activities of the EU in the direction of normalizing relations between Serbia and Kosovo," Mazreku concludes.