Economists: The blockade of the import of Serbian goods harms the economies of Kosovo and Serbia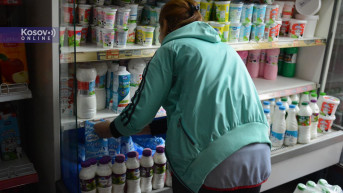 Source: Kosovo Online
Economic experts pointed out that blocking the import of Serbian goods harmed the economies of Serbia and Kosovo, and that dialogue was the key solution to that issue, RTK writes.
The President of the Association of Businessmen from Gracanica, Sasa Sekulic, said that merchants in Serbian areas hoped that the measures of the Government of Kosovo banning the import of Serbian goods would soon be lifted.
"Businessmen are dependent on large Albanian distributors from Kosovo, and they are forced to replace those goods with goods that are 20 or 30 percent more expensive in Serbian areas. Either you will have, for example, oil from Albania, or North Macedonia, or you will not have it. Serbian traders are forced, as well as consumers, to buy what is in the store at this moment," Sekulic said.
The President of the Business Alliance of Kosovo, Agim Shahini, says that the measure to ban the import of Serbian goods is political and that it causes damage to the economy.
"It damages both sides, because there are several Kosovo companies that depend only on the import of goods from Serbia, especially finished products, and they are in a situation where they can barely survive. Many companies from Serbia tried to find the same products from Macedonia, and they found them, however, they can't wait for that ramp to be lifted one day in the direction of Serbia-Kosovo," Shahini added.
Bojan Stanic from the Strategic Analysis Sector of the Serbian Chamber of Commerce says that the policy has threatened the economy, adding that the estimated damage for two and a half months, in terms of undelivered goods, is around 60 million euros.
"The burden of inflation that exists and is further increased by taking goods that are more expensive and that burdens not only the competitiveness of those companies that sell those goods at retail stores but also the population in general, which is key in the formation of GDP, in Kosovo, as well as in Serbia," Stanic said.
He also pointed out that Kosovo might now have problems with investors, bearing in mind that a significant part of the companies that marketed goods in Kosovo from Serbia were majority-owned by capital primarily from the EU.
"We are a part of the Western Balkans region, so we also feel the political crisis, because it clearly affects the decline in investor confidence and the decline in the economic credit rating. These are all problems that are economic, and that is why we consider the decisions of the Government in Pristina to be economically irrational," Stanic said.
Economic expert from Kosovo Safet Gerxhaliu sees the solution to the problem in dialogue, stressing that the current situation causes immeasurable losses to both sides.
"Economically, I think silence is the biggest crime, there is a lack of dialogue, and the voice of the private sector is not heard, because the measures certainly do not only harm Serbia and Kosovo, but also the entire Western Balkans," Gerxhaliu said.