Dacic: UN countries condemn the behavior of Pristina; everyone sees that they are to blame for the lack of progress in the dialogue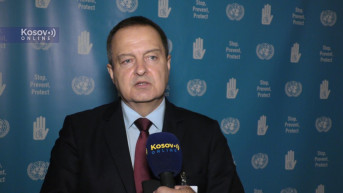 Source: Kosovo Online
The behavior of Albin Kurti and his refusal to make progress in the dialogue between Belgrade and Pirština was not met with support, but with significant condemnation from a large number of the United Nations member countries, Serbian Minister for Foreign Affairs Ivica Dacic told Kosovo Online in New York, who today already had several important meetings on the sidelines of the 78th session of the UN General Assembly.
Dacic reported that during the working breakfast with the ministers of foreign affairs from the Western Balkans, the head of Slovenian diplomacy, Tanja Fajon, had raised the issue of dialogue and the views of Albin Kurti from the last meeting.
"It is not supported, on the contrary. His behavior and refusal to make progress in the dialogue, which on our part is conditioned by the formation of the CSM, which was signed 10 years ago, is met with significant condemnation by a large number of UN member countries," Dacic said.
He added that there would be very significant meetings on the sidelines of the UN General Assembly, primarily with President Vucic, but it remained to be seen whether it was possible to achieve some kind of progress.
"Kosovo does not participate here unofficially, they are there as someone's guests, in the corridors... And this is proof of how important it is to all of them to reach a political solution through dialogue. So far, there are no indications that they have changed their political attitudes. They are to blame for the lack of progress in the dialogue and everyone can see that. Both in Washington, and in Brussels, and here in New York," Dacic is clear.
The head of Serbian diplomacy also pointed out that in New York, Serbia would try to establish and solidify its position, above all with the countries that had not recognized Kosovo.
"It is important that there are no changes, and there are none. At least for now, we have not heard that there are any wavering positions of those countries regarding the recognition of Kosovo's independence," Dacic said.
He added that the stay in New York, at the UN General Assembly, which was the most important week in the work of that organization, was always an opportunity for the delegation of Serbia, led by President Aleksandar Vucic, to talk with a number of significant world leaders on topics of a bilateral and regional nature and importance, such as the dialogue with Pristina.