Kurti: Prosecutor's offices and courts must prove their determination to solve cases of violence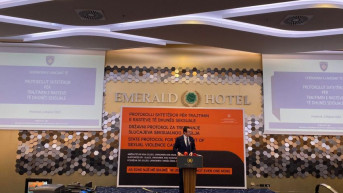 Source: Ekonomia Online
The Prime Minister of Kosovo Albin Kurti stated that stopping violence was the duty of every individual and called for the victims of violence to be protected and institutionally supported, Koha reports.

Today, at the presentation of the Protocol for handling cases of violence, Kurti stated that this document would be used by all institutions responsible for the treatment of sexual violence.
"The state protocol for handling cases of violence is a working document that will be used by all institutions responsible for handling cases of sexual violence. This protocol aims to make it clear that it does not matter if the victim first contacts the emergency services, reports the case to the police, contacts a lawyer, or seeks help from a center for abused women," Kurti said.
According to him, the Protocol would prevent irresponsibility and negligence of institutions.
"Irresponsibility cannot be allowed where institutions blame each other for inaction, avoid responsibilities and ignore the calls of the victims of violence. Regardless, any institution that first receives information about the case must immediately begin professional treatment, and all the specific needs of the victims must be met, with a multisectoral and coordinated approach," he continued.
He added that stopping violence was the responsibility of every individual and that victims deserved institutional support, and adequate health and psychological care.
Kurti emphasized that in many cases the victims of violence had not received adequate treatment, and according to him, "rapists and abusers did not receive appropriate punishment."
According to him, prosecutor's offices and courts had to prove their determination to solve cases of violence.