Milovic: Torture reaches its peak – Serbs are arrested even in the days of mourning, humanitarian catastrophe threatens the hospital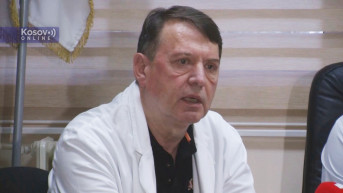 Source: Kosovo Online
Deputy Director of Clinical Hospital Center Kosovska Mitrovica and former mayor of Zvecan, Dragisa Milovic, stated tonight that the torture of Serbs in Kosovo had reached its peak under Albin Kurti's rule, that it was felt at all times, and that Serbs were concerned for the future of their children.
"We are all under the impression of tonight's testimony and all these days and events in Banjska. Among the citizens of Zvecan, Leposavic, and the entire north, there is sadness, grief, and concern, primarily for the future of our children and for our perspective in these ancestral lands," Milovic said on the TV Pink show "Hit Tweet."
As he stated, the torture that has been ongoing since 1999 has reached its peak with Albin Kurti coming to power, which, he said, is felt at all times.
"While we are talking now, a search is being conducted in Lazar Janicijevic's apartment. Even in the days of mourning, Serbs are being arrested," Milovic pointed out.
He recalled that two days ago, a special unit with armored vehicles and around 15 policemen entered the compound of Clinical Hospital Center Kosovska Mitrovica, smashing rooms, including the laundry and boiler room.
"When asked, the policeman initially refused to answer in Serbian, asking for Albanian or English... Then the commander came, and when asked what they were looking for, he replied that they had a search warrant from the court. It lasted more than an hour, while employees were coming to work and students from the High Medical School were coming to the hospital, in front of the eyes of patients in the internal medicine department... All of this has left a mark on the patients' psyche, and many of them sought help from psychiatrists afterward," Milovic said.
He also asked them how should surgeons enter the operating room to save lives while armored vehicles and long guns were in the yard.
Therefore, he sincerely hopes that those responsible for security, law, and order – EULEX, KFOR, and UNMIK – will start fulfilling their mandates in accordance with UN Security Council Resolution 1244.
Milovic added that they did not receive a specific answer regarding what the police were looking for in the hospital, only a report in Albanian stating that they found nothing.
When asked if the Clinical Hospital Center has everything it needs, Milovic reiterated what he had been pointing out for a long time – that, considering that Jarinje and Brnjak were closed, the delivery of medicines, infusion solutions, and medical supplies had been neglected for months.
"We are using the last reserves of medicines, infusion solutions, and medical supplies. We have warned the authorities, KFOR. UNICEF representatives have come because children have not received the DTP vaccine. A humanitarian catastrophe is looming over us. But here, double standards reign, and we are trying to use what we have rationally so that patients can continue to receive treatment," Milovic said.
When asked about the international community's response to this, he said:
"They listen and take notes."
He added that they refer them to Pristina, where the Clinical Hospital Center's requests have been pending since 2021.
"Somehow, it worked until Kurti came to power, who absolutely stopped everything. I don't know how we will get out of this crisis," Milovic said, adding that the US Embassy in Pristina had also called him, to whom he explained the problems, which were all at the expense of patients.
He pointed out that both Serbs and Albanians were treated at the Clinical Hospital Center Kosovska Mitrovica.
"We employ 1,600 people, and our patients come from Strpce to Leposavic, which is why our help is essential," Milovic appealed.
He is convinced that all of this is happening so that Serbs would "give up" and leave Kosovo, which, he says, is Kurti's apparent policy.
"Personally, not just me, all Serbs feel everything that is happening. This leaves consequences, even among patients, who increasingly seek support and the help of psychiatrists. I believe that this madness will stop, that those who are most responsible according to Resolution 1244 will maintain peace and order in Kosovo, and they will do it," Milovic said.