Ristuccia: KFOR and NATO support the dialogue between Belgrade and Pristina; only political solutions bring peace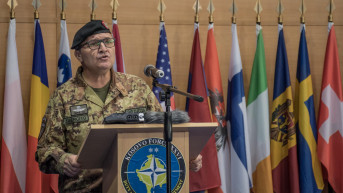 Source: Facebook/Kfor
The Commander of KFOR, the Italian Major General Angelo Michele Ristuccia, said today that KFOR and NATO fully supported the dialogue under the leadership of the European Union and the USA, which aimed to normalize relations between Belgrade and Pristina, and that only political solutions could bring peace and stability to the region, RTV reports.
"The unfortunate events that took place in the north of Kosovo, especially those on May 29, showed that such a political solution is necessary," Ristuccia said at a conference at the Hilton Hotel in Belgrade.
He emphasized that due to a series of such events, which had threatened security in Kosovo, KFOR was in a state of permanent crisis management.
"Each time a crisis breaks out, military and diplomatic efforts are needed to restore a peaceful and balanced situation," Ristuccia said.
He added that KFOR was the largest and longest NATO-led mission operating under the UN mandate, based on UN Resolution 1244 from 1999, in order to guarantee peace, protection, and a safe environment for all people living in Kosovo.