Vucic: Difficult talks and a great fight for the CSM are ahead of us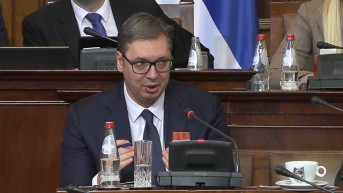 Source: Kosovo Online
The President of Serbia, Aleksandar Vucic, said this evening, at the end of the special session of the Assembly on the report on the negotiations on Kosovo that difficult discussions and a great struggle for the Community of Serb-majority Municipalities were ahead of Serbia in the coming period.
"There is a great fight ahead of us for the CSM with powers that will be significant and instill confidence in our people, that is what is most important. We will make all decisions in cooperation with them. I am sure that there will be a lot of pressure, from outside and from the Albanian side, not to respect everything that was signed in Brussels," he emphasized.
Vucic, addressing the deputies after 11:00 a.m. on the second day of the session, pointed out that discussions on other topics would only come after that.
"We have to understand what the West is looking for and in which geopolitical frameworks.  I think that it is now clear to them that the defeat of Russia in military terms will be more difficult than they thought seven months ago. Russia started to fight better. The war will continue. I hope that we will reach a truce, but I am afraid that the war will only be more difficult with even greater proportions and consequences, and they will not be good for us either", he is convinced.
He pointed out that his initiative at the session of the National Security Council had not been to impose sanctions on Russia.
"I am guilty because I proposed it in accordance with international law, as I knew that we had to condemn the invasion of Ukraine because we would have nothing to claim on the international stage if we didn't do it. But I was against the introduction of sanctions and the fact that our experience with sanctions was very bad and I thought that we should have someone to help us in the UN Security Council because I don't know what ideas someone could get like Great Britain did in 2015. The price is not small and for that price, it is my fault. I think that when it does not threaten vital state interests, it is important to preserve autonomy and independence in decision-making," he explained.
Vucic pointed out that talks were coming, and that there would be many difficult compromises.
He said that it would be bad to talk about red lines because then there were no negotiations, but that did not mean that Serbia was not firm enough in its determinations.
He emphasized that it was important for Serbia to negotiate with the Albanians and to establish better relations with them.
"For our people in Kosovo and Metohija, I would like them to know that they have their own country. I know that you know that your country is Serbia and that is our strength. It is something that cannot be erased. We have to understand that a huge number of people do not think that it is Serbia. Our position is not easy, because the situation in Kosovo is not easy," he explained.
He said that Serbia would continue the joint struggle and would keep the peace, and behave responsibly and seriously.
He expressed his willingness that before every important conversation, the director of the Office for the Ministry of Foreign Affairs, Petar Petkovic, would invite the interested parties to familiarize themselves with the topic of the conversation.
"Be prepared for hard times, in which we will dedicate ourselves to the further progress of Serbia, our economy, the standard of living, to try to understand each other a little better," he concluded.