Vucic on the reactions to his speech at the UN: It was up to us to say what is true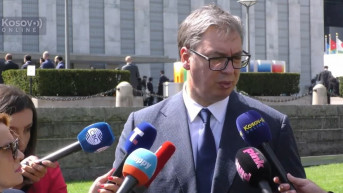 Source: Kosovo Online
Serbian President Aleksandar Vucic told reporters in New York that the major powers had not responded to his speech at the UN General Assembly session and that he did not expect them to tell him anything, adding that he was contacted by "small" people who were happy that someone had said what they thought too.
When asked if there had been reactions and if someone had told him that he had been harsher in his speech, Vucic says that they are probably now discussing among themselves how "he was lagging behind in the past".
"I get calls from those from small countries who are happy because they had someone to say what they were thinking. And they will remain silent, of course, no one will tell me that I was harsher," he said.
He adds that he is aware of this and does not expect his speech to change anything.
"Oh no, I'm not a child to expect such things, it's in fairy tales, there's nothing like that, it was our job to say what's true, to be written down in history for the sake of our people, to be the pride of our people that we are the few who dare to say how things are, to tell the real truth. Of course, it won't contribute to anything, but it will strengthen our position because they know that we know and understand and not to think that because we don't understand, we can agree to the impossible," Vucic said.
In response to the journalist's statement that he reminded them that the end of the conflict had not come, Vucic says that it will not come either.
"I said what we think and what we do. Gabriel Escobar said that Serbia had its own policy, he wanted to criticize us, but he told the truth. We have our own policy; I am proud of it, but it will not carry a lot of weight, but it is ours to do our job.
You could hear today also Guinea, Burundi, Malawi, and many others - slowly that wind and the smell of freedom is felt everywhere in the world. They say that they are neither pro-American, nor pro-Russian, nor anything else, but that they are Africans and have a certain type of policy. That specter of freedom and independence is once again spreading around the world," the President of Serbia said.
As he stated, he had discussed with the Secretary General of the United Nations, Antonio Guterres, respect for the principles on which the UN is based. He states that he told Guterres that Serbia will continue to respect the principles and that it is grateful for Guterres' contribution to the realization of the principles.
"We had a good conversation about Kosovo and Metohija, I informed the Secretary-General about the situation, and now I'm going to a meeting with the Vice President of China, then with Miroslav Lajcak, then to the US media Newsmax and so on - it's a long night," Vucic said.