Vucic to the Serbs from Kosovo: Proud that you guard our hearths and take care of the homeland of Serbia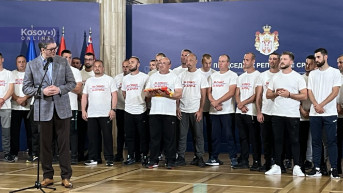 Source: Kosovo Online
The President of Serbia, Aleksandar Vucic, hosted the Serbs from Kosovo tonight in the Presidency building, who on May 17 set off on foot towards Belgrade, in order to attend the "Serbia of Hope" rally tomorrow.
The reception is attended by Serbs who started from Kosovsko Morava Valley, as well as those who started their journey in Leposavic, i.e. North Mitrovica, as well as the director of the Office for Kosovo and Metohija, Petar Petkovic.
Vucic pointed out that he was proud to have the opportunity to host the Serbs from Kosovo at least for a short time and to thank them for their support to the state of Serbia.
"I am proud that you guard our hearths, take care of the country, and that despite all the pressures you love it," Vucic said, addressing the guests.
He points out that he would not have lasted even a kilometer and a half, while they had endured more than 300 kilometers in various weather conditions, in order to show their love for their homeland.
Clarifying that tonight there are "23 heroes" in the Presidency, Vucic said that they had taken different paths and ended up in Belgrade.
"These are not easy times for us, before I came, Petkovic told me that the situation was difficult and that the international community had come up with the next trick that they wanted to pressure me with – "take it or leave it" at the end of June, to create expert groups to impose on us the CSM... I told him – "just take it easy, nothing happens, nor does it resolve overnight". I told him that the function of the Management Team was known, it was known what we wanted and what we would not agree to," Vucic pointed out.
He emphasizes that it is known that Serbia will only agree to what was resolved in the 2015 agreement.
"And it will be - like this or not at all. Foreigners have learned to behave rather arrogantly and there must be someone bigger, the one who says – "it can't be like that". We have to protect what they think was stolen from us a long time ago and we do it thanks to your willingness to sacrifice yourself, to set yourself up as a shield for the entire country and people," Vucic said.
Thanking them once again, he told the citizens of central Serbia that the Serbs from all parts of Kosovo were present, firm and strong, and determined to preserve their hearths.
"I will try to help both when it is difficult and when it is good, I will be with you," Vucic said to the Serbs from Kosovo.
Dalibor Jankovic from Kosovo Morava Valley thanked the president for the reception, as well as for fighting and protecting Kosovo.
"That's why we went to the rally because only with you do we have hope for survival in Kosovo and Metohija," Jankovic said and handed the president a gift from the Draganac monastery.
Dejan Marjanovic from Lesak said that he supported the president and Serbia on behalf of the Serbs and comrades from Leposavic and Kosovska Mitrovica.
"We want to thank you, we started nine days ago wanting to show that we support the policy of our president," Marjanovic said and presented President Vucic with a flag, as he said, "In the name of your and our love for the country of Serbia".