The fifth day of barricades in the north, perseverance and anxiety among Serbs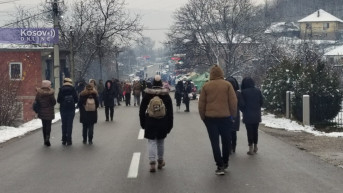 Source: Kosovo Online
Serbs in Kosovo protesting against the illegal arrest of former policeman Dejan Pantic are at the barricades in the north for the fifth day in a row.
Hundreds of people are spending this morning at the barricades in Rudare, Srbovac, Slatina, and Lesak in the cold weather, on the main road Pristina - Raska. A barricade was set up in Varaga from the direction that lead from South Mitrovica to Ribarice.
Those who gathered say that they are still persistently waiting for the release of Dejan Pantic and for the police units sent from Pristina to withdraw from the north.
Tents have been set up in Rudare so that people could warm up and take shelter from the occasional rain.
They say that the barricade in Rudare is the doorstep of every Serb in the north. They are also worried because of the unpredictability of the situation and, as they say, the threats that come from Pristina every day.
North of Kosovo is also blocked by the Kosovo police because the administrative crossings of Brnjak and Jarinje cannot be crossed even on foot.
Schools in the north of Kosovo and Metohija have been closed since Monday.
Dejan Pantic, a former police officer who was arrested three days ago in Jarinje, was ordered to be detained for 30 days yesterday, and the decision of the judge from Pristina arrived without an explanation.