Legend of Macedonian and Yugoslav basketball: The whole region should support Partizan in Madrid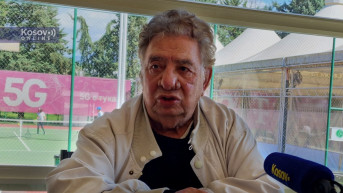 Source: Kosovo Online
One of the legendary Yugoslav basketball coaches and the founder of Macedonian basketball, Lazar Lecic, in an interview for Kosovo Online in Skopje, said that tomorrow the entire region should be with the Belgrade "black and white" in the decisive match against Real Madrid to go to the final tournament of the Euroleague.
In a conversation with Kosovo Online, Lecic recalls how the game under the hoop looked in the best days of Yugoslav basketball, and what is the problem for local clubs today.
A man who was remembered for the lucid moves and advice he gave to the players on the floor, he had a string of successes, among others in Rabotnicki, Cacanski Borac, Olimpija, Vojvodina, Skopje MZT, Greek Aris... as a coach of the national team, he won a gold medal in Ljubljana in 1970 at the World Championship.
When asked if Partizan can win against Madrid, he replies that he believes it is possible and that, although he was never a Partisan fan, since his friend Zeljko Obradović took over the club, he has been supporting them.
It is normal, he adds, that the entire former Yugoslavia supports Partizan.
"It will be difficult, what happened in Spain disrupted everything, but the return of the Panther is important, as they can open up the zone they used to play in... Partizan beat them twice in Madrid, why wouldn't they do it now?", says Lecic.
The stakes are high, and the game will not be easy for either team.
"All of us who love basketball support Partizan," said Lecic.
Although he is 84 years old, he fondly remembers all the events, he still follows basketball, especially the regional and European, less so the NBA league.
When asked where basketball was at the time when he was one of the most recognized domestic experts, and where it is today, he answers - we had a system then.
"We had a system, outstanding coaches, great leadership - Radomir Saper, Nebojsa Popovic, Boro Stankovic, Boris Kristancic, Sonja Mladenovic, Milan Ciga Vasojevic, Ranko Zeravica... Then it was planned and professionally done," recalls Lecic.
Yugoslavia, he says, at that time was perhaps the best basketball nation - the league was extraordinary, and all the clubs in SFRY had no foreign players.
"All the players were from our country, and that's how the school of Yugoslav basketball was created," points out Lecic.
As basketball grew, so did the coaches and players.
"And slowly these richer countries started to buy us. Then came the wars and problems, and that's how the Yugoslav school began to collapse. And that's how, slowly, we came to the situation we have today", says Lecic.
He also says that Partizan and Red Star and their rivalry revived this entire region in basketball.
Now, he adds, the European league is very high-quality, and European teams play better defense than NBA teams.
In America, there is always "a bit of circus", he adds.
"Americans play basketball above the basket, on jumps, dunks, a little more attractive. We play on the floor, with defense, five on five, one on one, zones. Europe is of better quality", the expert assesses.
"We are all suffocating, and they are progressing, they take the best players and coaches, like everyone else, and dentists and engineers. America pays and takes. We trotted a bit. The national leagues are no longer of high quality, the ABA league was formed, there are a lot of irregularities, and it has also become a business and filled with foreigners", he notes.
He also adds that there is no "reproduction" of our domestic players.
"Each team has the desire to be placed on the table as better as possible and they are full of foreigners, so we trot. There are weak leagues in the republics," said Lecic.
When asked how much the war in SFRY set back Yugoslav basketball, he says that it destroyed it a lot, because everyone who was of good quality, not only basketball players, went abroad to make ends meet.
"We have become impoverished, in all sports, not only in basketball," states Lecic.
He also says that he is in contact with all former players, coaches, "from Slovenia to Greece".
"When I turned 80, almost all the coaches and players surprised me, because I coached not only the Yugoslav team, almost everyone from former clubs came to me..." he recalls.
Evoking memories of the famous final from Ljubljana in 1970, he says that it was the peak of the beginning of the creation of Yugoslav basketball.
"Then we started to create basketball, there were different Yugoslav tournaments, in 1968 the Yugoslav team started to be created, which in 1969 was second in Naples, and the following year won the championship in Ljubljana", said Lecic.
When asked if we would be unmatched in basketball today, he answers that the USA, "when it appeared," stole our country, and then the sport, and that we could not fight with the stronger ones.
"Now everyone works, and it's good, but there is no Yugoslavia... Other sports have appeared, volleyball, handball, football. Quality players are leaving", he states.
He also recalls that after Ljubljana, basketball was constantly played on the street, and there was no corner where there were no baskets, which lasted until the 1980s.
"And then we all went left or right and slowly our basketball started to trot... But now it's waking up again. With Partizan, Red Star, Olimpia in combination with Cedevita, there is also Buducnost, we are starting to wake up and get new ambitions again", concluded the legendary basketball player of a country that no longer exists.