Will KFOR become more actively involved in maintaining security in the north?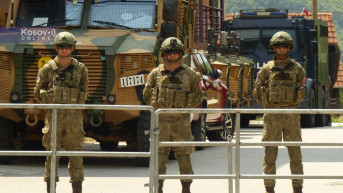 Source: Kosovo Online
For the security of the Serbs and the preservation of peace in Kosovo after a long period of heightened tensions and constant crises, especially after the dramatic events in Banjska, it is crucial to increase the presence of the KFOR mission and for it to start operating fully within its mandate, Kosovo Online interlocutors agree.
President of Serbia Aleksandar Vucic requested today, in a meeting with the Quint ambassadors, that KFOR take responsibility for all security issues in the north instead of Kurti's police. He also raised the question of why EULEX was rejected by the Kosovo Police from participating in the operation carried out in Banjska, during which four Serbs and one Albanian police officer were killed.
Italian Minister of Foreign Affairs Antonio Tajani announced after talks with Vucic and Kurti that efforts were being made to "strengthen the presence of KFOR at the border between Serbia and Kosovo and prevent further conflicts."
The President of the Foreign Affairs Committee in the Parliament of Great Britain, Alicia Kearns, called for the deployment of additional KFOR troops in Kosovo, 4,500 of them. According to her, Great Britain, as a member of the Quint, should take an active role in the dialogue between Kosovo and Serbia.
NATO Secretary-General Jens Stoltenberg reiterated a few weeks ago that the Kosovo Security Forces could not enter the north without KFOR's permission and requested that the Kosovo Police coordinate actions in that part of Kosovo with this mission. However, during the events in Banjska, KFOR essentially stayed on the sidelines, and according to President Vucic, they practically gave Kosovo Police carte blanche for this operation, during which, according to Belgrade's information, two Serbs were killed by sniper shots from a long distance.
Former Serbian Minister of Defense and founder of the Council for Strategic Policies, Dragan Sutanovac, emphasized that Serbia had been insisting for decades with NATO not to reduce KFOR forces, and he pointed out that it would be very significant for the security of the Serbs and the preservation of peace to increase the number of peacekeeping forces in Kosovo.
'For decades, we have been insisting with NATO and KFOR not to reduce their forces. Unfortunately, there are not enough soldiers in Kosovo who can respond adequately and in a timely manner to such situations as we have had now,' Sutanovac said for Kosovo Online, referring to the recent events in Banjska where one Albanian policeman and four Serbs were killed.
Regarding President Aleksandar Vucic's call to the Quint for KFOR to take over responsibility for security issues in the north, Sutanovac said it would be good to increase the number of members of this mission in Kosovo.
"If they take on a greater role, Serbs could feel much safer than they do now. Unfortunately, the departure of the Serbs from the police is evidently proving to be a bad move, but now, if KFOR appears in greater numbers, it can be a way out of the problem we are facing, which is very delicate and serious," Sutanovac believes.
Regarding KFOR's inadequate response in the Banjska situation, Sutanovac explained that they had been surprised by the speed of the developments on the ground.
"I think they were surprised, not so much by the event itself, but by the fact that there was an exchange of gunfire on both sides so quickly, which could not have been expected. It could be seen that they assumed something was being prepared, but they did not expect there to be fatalities. They must change their approaches to planning to try to prevent rather than solve problems when they occur. They should be one step ahead because they have all the technology to cover Kosovo by telecommunications, receive such information on time, and prevent such conflicts," Sutanovac believes.
As he points out, there is not enough data on the conflicts in Banjska, but he assesses that it is probably a matter of self-organization of certain groups, which "caused damage to Serbia" at a time when its international position has improved.
He adds that there is a possibility that these groups are organized for, as he said, "some third interest," but the investigation should determine all of that.
"The investigation should show who is behind all of this," Sutanovac said.
Former diplomat Zoran Milivojevic says he is not convinced that anything significant in favor of calming the situation and punishing Albin Kurti can be expected from the international community or Western power centers, but he also warns that it is high time for such actions.
"It should be expected for KFOR to step up, and that this issue is discussed in forums where it belongs," he adds.
As he says, whether this will be successful, he does not know, but this time the situation is truly dangerous, and any attempt to divert the situation from what objective circumstances and the situation on the ground offer represents a serious responsibility for those who opt for such an approach.
"It is extremely dangerous, a conflict is possible, and it cannot be localized to just that small area. Banjska has passed, but I'm not sure how it can escalate further. It is high time to stop Kurti. He will create chaos in the region," Milivojevic concludes.
Executive Director of the Council for Strategic Policy, Nikola Lunic, assessed for Kosovo Online that the increase in KFOR forces would be very significant because it would ensure greater security for all citizens in Kosovo.
"Larger KFOR forces mean greater capability in Kosovo, which translates to greater security. If there is greater security for everyone, it generates peace and stability, which is an explicit interest that Belgrade should be dedicated to and, I am convinced, it is dedicated to," Lunic says regarding the request of Serbian President Aleksandar Vucic to the Quint for KFOR to take over responsibility for all security matters in northern Kosovo following the incident in Banjska.
Speaking about the need for coordination between the Kosovo Police and KFOR during operations, which did not happen in the case of the Banjska incident, despite being emphasized as imperative by NATO Secretary-General Jens Stoltenberg, Lunic stated that this demand had been a form of pressure on Pristina.
"Besides sanctions, it was another form of pressure on Pristina and it remains in force. Whether KFOR will maintain such a stance or not, we will see in the coming period. In the end, we must know that both the land and air safety zones have not been abolished; they have only been suspended," he said.
He adds that there are "tools and mechanisms for pressure on both Pristina and Belgrade."
"The way Pristina and Belgrade behave in the political process will generate the international community's attitude towards them. At this moment, regardless of the Banjska incident and who ultimately initiated it, the focus is on Albin Kurti and the demands for the implementation of the Brussels Agreement," Lunic said.