Mehta on Open Balkan: It is wonderful that these countries are culturally in one community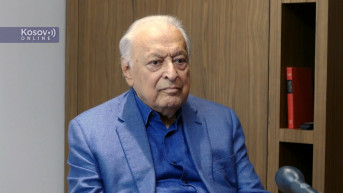 Source: Kosovo Online
World-renowned conductor and legendary maestro Zubin Mehta, who performed concerts in Belgrade and Tirana with the Belgrade Philharmonic Orchestra as part of the "Open Balkan" initiative, stated to Kosovo Online prior to his performance in Skopje that it is a wonderful idea for these Balkan countries to be united, at least culturally.
"It's great that we can travel from one country to another and only show our faces, not passports. That is no longer important. That's why it's good. It's a wonderful idea to have these Balkan countries, at least culturally, in one community," Mehta said when asked about his views on the "Open Balkan" initiative and the concerts in Belgrade, Tirana, and Skopje.
Mehta and the Belgrade Philharmonic Orchestra will perform tonight at the concert hall of the Macedonian Philharmonic, where Beethoven's Symphony No. 7 and Hector Berlioz's "Symphonie fantastique" will be performed. This concert will mark Mehta's third performance in Skopje.
Previously, concerts as part of the "Open Balkan" initiative were held in Belgrade on June 20th and in Tirana on June 22nd.