Another campaign for the boycott of products from Serbia in Kosovo, bullets instead of sweets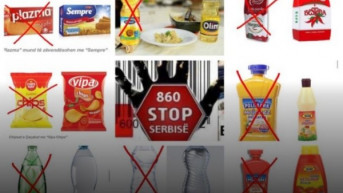 Source: Indeksonline
A new, bizarre video appeared on social networks, as part of a campaign calling for a boycott of products from Serbia in Kosovo.
The video, published on Facebook by a person whose name there is Shqipdon Salijaj, shows a young man who buys products from Serbia, such as biscuits, chips or strudel, but when he comes home and opens the packaging, instead of sweets, he finds bullets from firearms in them.
The message calling for a boycott of products from Serbia is followed by a man's voice, which reminds us that "they were at war with Serbs."
And, in fact, it is a sound recording of an older video from which the part "Until yesterday you had a war with them, neither man knows who is mother, nor who is sister, nor what bread represents, nor a thing", Kossev reports.
The video, which is only the last in a series of different actions to boycott products coming from Serbia to Kosovo, caused negative reactions from foreign users on social networks.
"So, the West expects Serbia to negotiate with the authorities in Kosovo*, while Kosovo* orchestrates a boycott of Serbian products with such ads where chips and cookies are bullets? How to negotiate with someone who negotiates in bad faith," said a lawyer from America on Twitter.
"In Kosovo, they are continuing their propaganda war against Serbia. This is really sick, how can there be reconciliation," answered one of the Twitter users.