Dacic: Kurti not interested in dialogue, Serbia faces daily pressures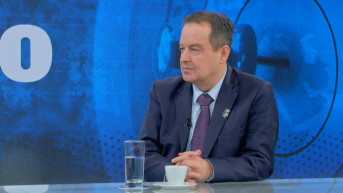 Source: Euronews Srbija
Minister of Foreign Affairs Ivica Dacic said that the statement of Kosovo Prime Minister Albin Kurti on the unification of Albania and Kosovo was an old idea, and added that Kurti was not interested in dialogue with Serbia, TV B92 reports.
"It's an old idea of ​​the Albanians and it's good that it's being talked about publicly, because some in Europe and the USA think it's our idea, but the only goal of all Albanians is unification into a Greater Albania," Dacic points out.
He says that Kurti does not respect the Brussels Agreement, does not want to form the CSM, nor to continue the dialogue until the recognition of independence is discussed. According to him, Serbia faces various pressures and blackmail every day.
"If you accept some state as a candidate for EU membership, it means that you have already accepted it in some way. We will never reject any plans, we just said what has been unacceptable for us, and that is for Kosovo to be a member of the EU," Dacic says referring to the conversation with French President Emmanuel Macron.
The Westerners, he adds, say they cannot force Kurti.
"How you can force us? You see that it has been proven that they can force and exert pressure. We do not have a majority in the EU, but we have five countries that do not recognize Kosovo, we have Hungary, which said that it would not vote for the independence of Kosovo, so is it in our interest to damage relations with those countries." Dacic says.
Dacic explains that Russia and China are number one countries for Serbia and that it should not damage relations with them.
"We don't give lessons to anyone, but we are not stupid, we know very well what it is about," he says.