KSF members arrived in the Malvinas, Argentina demanded their immediate expulsion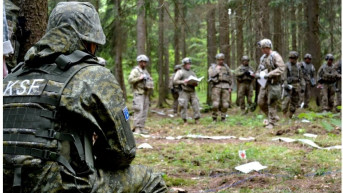 Source: facebook
As Kosovo Online exclusively learns, the Kosovo Security Force (KSF) troop has arrived in the Malvinas (Falkland Islands).
KSF members are stationed at the "Mount Pleasant" base, located about 50 kilometers from the Malvinas Islands capital.
"The plan is for them to stay for up to three years, with periodic rotations. The KSF group that arrived consists of seven to nine people, but the number is not important at all, but the fact that they are deployed in the territory over which there is a sovereignty dispute, which is recognized by the United Nations," our well-informed source adds.
Due to the deployment of the KSF members, Argentina launched a "diplomatic offensive" and carried out a series of efforts in Belgrade and London.
At the beginning of December, the Argentine Ministry of Foreign Affairs delivered a formal note of protest to the British ambassador in Argentina.
In addition, Argentina informed other Latin American countries about this unilateral British act. In this regard, the Community of Latin American and Caribbean States (CELAC), an important regional organization, issued a condemnatory statement.
"Argentina will persist in its protest over the presence of the KSF members in the Malvinas Islands, and of course in its diplomatic struggle over sovereignty over the Malvinas Islands and the surrounding maritime areas, both bilaterally and in various international forums," our interlocutor confirms.