Odalovic: With the criminal complaint against me, Kurti is blocking the process of searching for the missing persons; I will respond to the call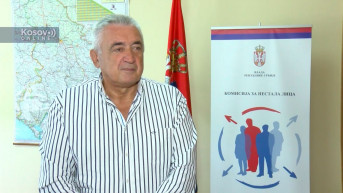 Source: Kosovo Online
The President of the Commission for Missing Persons of the Government of Serbia, Veljko Odalovic, says that he is not surprised by the criminal complaint filed against him for alleged war crimes, indicating that he expected Kosovo Prime Minister Albin Kurti to seek a way to block the process of searching for missing persons. He adds that he is sorry that the families of missing persons are being instrumentalized and used in this case.
The President of the Association "Mothers' Calls" from Djakovica, Nesreta Kumnova, announced yesterday that she had submitted a criminal complaint to the Special Prosecutor's Office in Pristina against President Veljko Odalovic because he was allegedly responsible for war crimes in Kosovo.
"I'm sorry that Mrs. Kumnova, who experienced a personal tragedy herself and is still looking for her son, was used. That is the most unpleasant thing in this whole situation, but I expected for the latter that Kurti and the people around him, who are blocking the whole process, would look for a way to block this process of searching for missing persons because I know that they are running away from responsibility for the obligations they have assumed and for searching locations where there are a large number of the Serbs that we are still looking for, as well as the Albanians," Odalovic said for Kosovo online.
He adds that Pristina and the Kosovo courts have started certain procedures based on command responsibility against people whose only sin, he says, was that they performed a certain function and job that was entrusted to them.
He reminds that he was the head of the Kosovo district, the head of the civil administrative structure, and adds that everyone knows it and that he has no problem with it.
"In May 2001, I was dismissed, I was not the focus of the new government, but after October 5, they cancelled the customs and other places that were more profitable for them, and in the end, the dismissal came. I remained in Kosovo Polje with my mother, so I was absolutely someone who was ready to bear the full burden of what he was doing and I have no problem even today," Odalovic emphasizes.
It remains to be seen how the Kosovo Prosecution will react to that criminal report, that is, whether they will initiate proceedings, says Odalovic and emphasizes that he will respond to each of their calls and explain all the circumstances that will be brought to his attention.
"I don't run away from it. This is very important to me because I will not leave such a matter unsolved, firstly for the sake of my family, secondly for the sake of my friends and colleagues with whom I worked and with whom I work because I do not want them to feel uncomfortable sitting with a man who has been accused of a war criminal, it's not something I can handle like that, I won't because of the Albanians, my friends with whom I talk and maintain contacts, I don't want them to wonder who they hung out with, who they called, who came to their house, whose house they went to, who went to their funerals, whose funerals they came to, and I won't even for the sake of all the families of missing persons, both Albanians and Serbs because it would be ugly if I did this job with that assumption," he says.
As he adds, if he knew that he had ever done something that was in any way outside the normal procedures for which he had or has a mandate to deal, he would not even accept to perform his current function.
"I am not such a hypocrite, nor someone who can talk to people who have experienced tragedies and know something that I cannot share with them, so I repeat - I am sorry that the families of the victims are being instrumentalized in this way, the same families, the same those people with whom I had meetings countless times, talked, exchanged information, invited them to come to the locations we were searching, shared their fate with them, most often I was the one who, when the identifications were made, organized the handovers and expressed my condolences to those people," he points out.
Saying that everyone should do their job, he says that he will probably be with Kumnova "eye to eye" and then he will ask her what her motives are.
In this sense, he indicates that there were five districts in Kosovo and Metohija and that the Kosovo District was one of them.
"Ms. Kumnova is from the Pec district, she is from Djakovica, so we have not seen each other, nor do I know anything about her, we did not have any touch or contact of any kind so that she could now identify me. Although, let that be the case for those who will deal with this criminal report," Odalovic says.