Rama asks for an explanation from the UN: Why Belgrade and Pristina, and not Serbia and Kosovo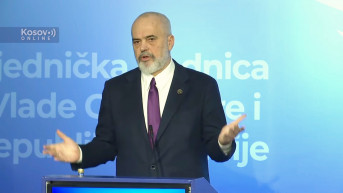 Source: Kosovo Online
The Prime Minister of Albania Edi Rama reacted to the statement of the Deputy Spokesperson of the Secretary General of the United Nations regarding the reaching of the agreement between Kosovo and Serbia in Ohrid.

Rama was bothered that the term "Belgrade and Pristina" was mentioned in the statement, and not "Serbia and Kosovo".
"'Belgrade and Pristina'?! A serious mistake or a lapse? The official name of it is 'The Agreement on the Path to Normalization between Kosovo and Serbia', and it would be unacceptable if the SG did not use this proper name deliberately. Please provide clarification promptly," Rama wrote on Twitter.