Stoltenberg: Formation of the CSM a crucial step towards normalization of relations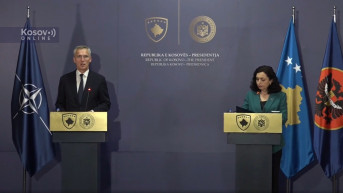 Source: Kosovo Online
"We will do what is necessary to ensure a safe environment for all people in Kosovo, Jens Stoltenberg, NATO Secretary-General, stated today in Pristina after a meeting with Kosovo President Vjosa Osmani. He welcomed recent proposals for the formation of the CSM, stating that it would be a crucial step towards the normalization of relations. Stoltenberg emphasized that any deployment of the KSF and police in the north requires coordination with KFOR.
"This is a very important meeting for the security situation in Kosovo and the region after what happened in September", Stoltenberg said, beginning his address by expressing his pleasure to be in Pristina.
He also recalled the events in northern Kosovo in May.
"As for the violence in May and September, it is unacceptable, and that is why we have increased our presence," he said, emphasizing that NATO is not a law enforcement institution.
Stoltenberg stated that NATO supported the dialogue between Belgrade and Pristina. "Both sides should be engaged. I welcome recent proposals for the formation of the CSM; this would be a crucial step towards the normalization of relations", the Secretary-General said.
He also emphasized that any deployment of the KSF in northern Kosovo required coordination with KFOR, and he stated that NATO expected timely consultations in case of any actions by these forces, including the police, which might affect stability.
Membership of Kosovo in the Partnership for Peace Program, he added, depended on the votes of all NATO member states.
"This has been discussed, but as I said, the votes of all allies and NATO member states are needed", he said.
Kosovo President Vjosa Osmani thanked Stoltenberg for the visit, saying it comes "in a challenging time in terms of security, not only for Kosovo but for the entire Western Balkans".
"The freedom of Kosovo is the result of NATO support. The people and institutions of Kosovo are forever grateful", Osmani said.
She stated that peace in Kosovo "continues to be jeopardized by Serbia", recalling the events in Banjska.
"The responsibility of Serbia for the attacks on September 24, as well as against KFOR representatives in May, must be addressed", Osmani said, noting that the same people were involved in both incidents.
"The role of NATO and KFOR in preventing the destabilization of Kosovo is crucial, not only for Kosovo", Osmani said, adding that "Kosovo and NATO are on one side, and terrorists on the other".
She stated that Kosovo's strategic goal was NATO membership.
"Kosovo has proven to be a reliable partner for NATO, from taking care of Afghan refugees to sanctions against Russia and support for Ukraine", Osmani said.
Regarding the dialogue with Belgrade, Osmani said that only after signing agreements could one talk about a successful dialogue.
"On October 26, Kosovo offered to sign agreements related to the Franco-German plan so that the Serbian side would not evade its obligations. In that meeting, Serbia did not express a desire to sign. It should be clear to everyone that the address for non-implementation of the agreements should be Belgrade", Osmani said.