Vucic: The army will not enter Kosovo; We will withdraw forces from that area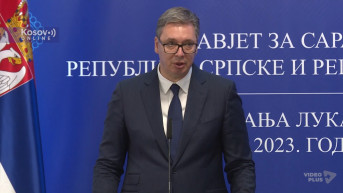 Source: Kosovo Online
The President of Serbia, Aleksandar Vucic, said that he had no intention of ordering the army to cross administrative crossings, and that he would withdraw Serbian forces from that area because, as he stated, the escalation of the conflict would be counterproductive when it came to Serbia's desire to become a member of the European Union, Euronews Serbia reports.
"Why would this be useful for Belgrade? What would be the idea? To destroy our position that we have been building for a year? To destroy it in one day? Serbia does not want war," Vucic said in a statement to the Financial Times.
He added that Washington's warnings were disproportionate because the number of Serbian forces on the ground was decreasing.
"Last year we had 14,000 people near the administrative line, today we have 7,500 and we will reduce that to 4,000," said Vucic.
He said that it was a lie that Serbia was sending the army to the administrative line.
"Serbia would not benefit from that because it would jeopardize its position in the negotiations with Pristina under the auspices of the European Union," stated Vucic.
Recall that the White House announced on Friday that the US was monitoring the deployment of the Serbian army along the administrative line with Kosovo, and the White House spokesman for national security, John Kirby, called for the withdrawal of those forces in order to reduce tensions.
And the European head of diplomacy, Josep Borrell, has said today that the accumulation of the Serbian army near the administrative line is very worrying and must be stopped immediately.