Vucic: Important meetings await us; it is important to discuss current topics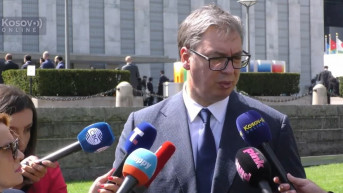 Source: Kosovo Online
The President of Serbia, Aleksandar Vucic, said today in New York, after the opening of the General Debate of the General Assembly of the United Nations, that he had already had many meetings yesterday and today on the sidelines of the UN General Assembly with almost all European leaders, and that he was yet to meet with everyone who can in any way influence in terms of investments, as well as in a political sense.
In a conversation with journalists, Vucic stated that one of the meetings would be with the EU Envoy for Dialogue between Kosovo and Serbia, Miroslav Lajcak.
"There will be a meeting with Lajcak and everyone with whom we have to discuss the situation in Kosovo and Metohija," Vucic said.
He stated that he had so far met German Chancellor Olaf Scholz, as well as Turkish President Tayyip Erdogan, with whom he had discussed regional issues and his recent visit to Serbia, and that perhaps he had had the longest conversation with the President of the European Council, Charles Michel.
He announced that he expected to have an extremely important conversation with Chinese Vice President Han Zheng tomorrow.
"This is an opportunity to use both the place and the time, to do a lot of work that you would have to do in a few months," Vucic said.
Vucic also noted that even today in New York, at the opening of the General Debate of the UN General Assembly, from the presentation of Secretary-General Antonio Guterres, the Presidents of the USA and Brazil, as well as other leaders, a completely different view of the world had been seen and felt.
"For the first time, the Brazilian President received more applause than the US one, which has never been the case. And from that, you can see a slight change in the mood of some Asian and African countries," Vucic stated.
And from that, he says, it is clear how important it is to discuss the most serious topics, especially in light of all the conflicts in the world.
"Today, when you talk about the presence of carbon dioxide in the air, it sounds meaningless, when we consider the number of deaths on a daily basis. So I believe that this escalation of problems and conflicts will stop. Otherwise, there will be more and more severe consequences," Vucic warned.
On the statement of the EU regarding Kosovo and Serbia, Vucic stated that, if you carefully read the statements from the European Union, you could notice that it was not the same as shifting responsibility to Serbia and Kosovo, and stated that the EU had first wanted to point out the one who was guilty, but that then the nine EU member states had demanded that it be balanced.
"If you read carefully, the intention was to point out the side that is more at fault, but then they came from nine countries who asked for it to be balanced, but it is still not the same as what you see when you read more carefully," Vucic said.
When asked why it was not possible to point only to the party that was guilty and to state that Serbia was at an advantage, Vucic pointed out that Serbia could not be at an advantage because these were the countries that had recognized the independence of Kosovo, and Serbia was considered guilty only because that problem existed.
Commenting on the presence of Kosovo President Vjosa Osmani in New York, the President of Serbia indicates that she does not participate in the work of the UN General Assembly.
"She does not participate in the work of the General Assembly, she cannot sit where we are sitting, but they call her and give her a special ticket for admission to all those countries that recognized Kosovo, as they did last year, the year before last, as they have been doing for years," Vucic concluded.
Vucic also commented on the speech of US President Joseph Biden, as well as the statements of German Foreign Minister Annalene Baerbock that Germany always stood behind the UN Charter, and said that in his speech he would try to remind them that this was not exactly true.
According to him, they did not stand behind the UN Charter even in 1999 when NATO bombed FR Yugoslavia, and the fact that they do not always stand behind the UN Charter is also shown by the fact that they do not respect Resolution 12 44 of the UN Security Council.
As for Biden's speech, as Vucic says, the US President took more care of China than before, and it is interesting that he put human rights and LGBT rights after territorial integrity and sovereignty as the most important things.
"How come they didn't remember that in 2008," Vucic asked.
Vucic added that he expected that at the next meeting, to which he had been invited by the EU High Representative for Foreign Policy, Josep Borrell, "everyone will lecture him" because Serbia had not imposed sanctions on Russia.
"I will listen to them carefully, I will tell them thank you, you gave me a nice lecture, but we have this kind of policy, and while I think we can withstand the pressure, we will do it this way, and when I realize that we can't, we won't. But, here we are already succeeding a year and seven months. Our policy is fair and responsible," Vucic said.
He added that the Serbs knew what it was like to face sanctions and that this was the main reason for such a Serbian policy.
Answering Russian journalists' question about sanctions, Vucic reminded that Serbia was the only country that had not imposed any sanctions on Russia and that he hoped that it would not.
"I hope that there will be no sanctions, I can tell you that today, but I don't know if I will be able to say this tomorrow or the day after tomorrow," Vucic said.
When asked about the conflict in Ukraine, Vucic also told Russian journalists that Serbia respected the territorial integrity of all countries that were members of the United Nations.