Vucic: For me, too, the question of the status of Kosovo is over, I rely on the UN Charter and Resolution 1244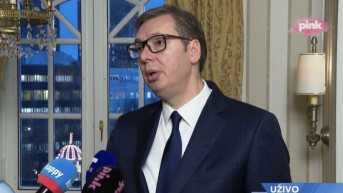 Source: Večernje novosti/ Pink Printskrin
The President of Serbia, Aleksandar Vucic, stated that Albin Kurti mainly relied on the force of large and more powerful countries from the West and reckoned that they would force Serbia to accept something. However, by no means would Kurti adhere to what was signed.
When asked what we could hope for in the future negotiations between Belgrade and Pristina, bearing in mind Albin Kurti's statement that for him the issue of the status of Kosovo was finished in July 2010, when Serbia raised the issue to the International Court of Justice, Vucic said that he didn't have high hopes but fear for the future events.
"If Kurti says that the issue of status is over for him, fine. I am grateful to him because the issue of status is over for me as well. I base the completion of the status issue on one more important act, which is the UN Charter and UN Resolution 1244, so if this is in question, then I can only say that I don't have too much hope, but only fear for the future events," said Vucic, answering the Oslo journalists' questions.
He pointed out that the Serbs were fed up, and added that the Albanians thought they could solve the problems in the north of Kosovo with Special Police, but they did not understand that they were only encouraging our people to be absolutely against them and more and more determined against them.
"It seems they didn't listen carefully, maybe that's a good thing, maybe I said too much," said Vucic and added that the situation in the north of Kosovo and Metohija, but also everywhere in the province, as far as the Serbian people were concerned, was literally boiling.
"As far as we are concerned, it is our duty to be with our people and to see how we can help them. Speaking about what Kurti refers to, he refers to everything that suits him, and never to what he does not like, because he has only one comment for what he doesn't like, which is insane and completely meaningless, and he can't abide by what was signed," Vucic said.