Ramabaja: I don't see Kosovo as an eternal republic, but as part of the Albanian federation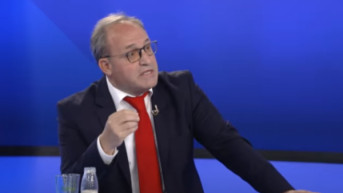 Source: Gazeta Express
Analyst Sadri Ramabaja said that he agrees with Albanian Prime Minister Edi Rama, regarding the relations between Kosovo and Serbia, in the opinion that things between the two countries are moving slowly, but in the right direction, Ekonomia online reported.
"The fact that diplomacy has been launched and that the Franco-German plan has been accepted by the two heads of state gives the Albanian prime minister the right to take a stand, things have started to move in the right direction," said Ramabaja, who is also a member of the Self-Determination movement.
He also said that he did not see Kosovo as an "eternal republic", but as part of the Albanian federation.
"The north of Kosovo is part of the national space. I don't see Kosovo as an eternal republic, and tomorrow, it could easily be part of the Albanian federation. So I expect more from Albanian politics," Ramabaja said.