Drama in Velika Hoca: Srdjan Petrovic's son threatens to jump off the roof; special forces surround the house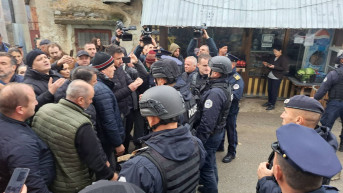 Source: Kosovo Online
The situation in Velika Hoca is currently very tense due to the Kosovo customs' attempt to confiscate a large amount of wine belonging to the Petrovic family. A large number of locals are on the street, and the special police unit members are in front of the house. Srdjan Petrovic tied himself to a lamppost as a sign of protest, and his son climbed onto the roof of the house and threatened to jump.
A large number of locals gathered in support of the Petrovic family, and it had been very dramatic since the early morning hours.
The gathered people are trying to convince the Kosovo police officers to give up confiscating the wine from Petrovic's vineyard.
This morning, the Kosovo Customs announced that during the inspection in Velika Hoca in Orahovac, they had discovered that alcoholic beverages were being sold without authorization, which was why they decided to confiscate 42,000 liters of alcoholic beverages, Koha reported.