Brnabic: Bright future of the Open Balkan; talks about it tomorrow with Rama in Tirana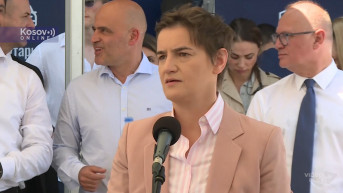 Source: Kosovo Online
The Prime Minister of Serbia, Ana Brnabic, said that she believed that the future of the Open Balkan initiative was bright and that tomorrow in Tirana, she would discuss it with Albanian Prime Minister Edi Rama, RTV reports.
"Regardless of certain statements, I don't believe that Rama is against the Open Balkan initiative, I think he talked about it at the last press conference with the President of Serbia, Aleksandar Vucic. I believe that its future is bright and safe and that the other countries from the region will join this initiative," she said.
According to her, the Open Balkan is an autochthonous and extremely practical initiative, because every project that is carried out within it has a specific application, and its benefits for the economy and citizens are directly felt.
"This is just the beginning, and if you see the mutual exchange of goods between Albania, Serbia, and North Macedonia, harmonization of customs and phytosanitary procedures, and shortening of waiting times at border crossings, citizens and the economy will force not only us but also the next generation of politicians to continue with this initiative and to expand it," Brnabic said.
She added that she was also convinced that other politicians in the region would be forced by their businessmen and citizens to join the Open Balkan.
"In the 21st century, the free flow of people, goods, and capital, facilitating studies, treatment, and work permits is something that has a secure future. This initiative will make a different and better future than the past we had, especially the one from the 90s. As responsible politicians, we will show the young people in the region that we can create different conditions and a better future, which will mean that they will stay here, create their families here and add value for all countries in the region," the Prime Minister stressed.