Stano: EU member states' ambassadors discussing the situation in Kosovo again today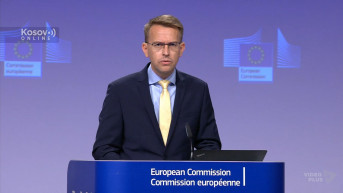 Source: Kosovo Online
Spokesperson of the EU, Peter Stano, stated today that yesterday's meeting of high-ranking EU diplomats with the European Envoy for Dialogue, Miroslav Lajcak, and the US Special Representative for the Western Balkans, Gabriel Escobar, had been just one of numerous diplomatic initiatives taking place regarding the situation in Kosovo. He mentioned that ambassadors of EU member states would meet again in the afternoon to discuss the situation, RTV reported.
"EU member states are discussing the situation and exchanging information about events on the ground. The next meeting will take place this afternoon. Ambassadors of EU member states will meet to discuss the situation. These are ongoing political processes, and discussions are underway about what exactly happened and what course of action member states will take," Stano said at a press conference.
He added that the EU did not want to make assessments and condemnations until an official investigation was completed and facts were collected.
"As far as we understand, the investigation is still ongoing. It has not been completed and is being fully conducted by the Kosovo Police. EULEX and KFOR provide assistance upon request. We need to see who organized and who carried out this terrorist attack. Those responsible should then be prosecuted by the judiciary. The EU has been very clear," Stano emphasized.
He also mentioned that the EULEX mission was operating on the ground in Kosovo as a second security actor, in accordance with its mandate, and could only respond if the Kosovo Police requested its assistance.
"EULEX, in line with its mandate, does everything it can to support the Kosovo Police if they request it. I can confirm that the cooperation has been very good so far. EULEX carries out tasks requested by the Kosovo Police, and they will continue to do so," Stano said.
He added that the head of the EULEX mission in Kosovo, Major-General Giovanni Pietro Barbano, was in constant contact with EU High Representative for Foreign Affairs and Security Policy, Josep Borrell, and informed him about developments on the ground.
Stano stressed that Borrell and Lajcak led the dialogue based on the mandate of the 27 EU member countries and at the request of Belgrade and Pristina.
"The EU, as a mediator in the dialogue, can only help the parties reach an agreement, but readiness, courage, and a desire to reach compromises and constructive solutions are essential," Stano emphasized.
He reminded that all EU member states had expressed their full support for Borrell and Lajcak as mediators in the dialogue between Belgrade and Pristina in the latest statement.
Stano also stated that the EU was in constant contact with all participants in the dialogue and communicated with them through appropriate channels, not through the media.
"Most importantly, at this moment, when it comes to terrorist attacks, is to conduct a thorough investigation and determine responsibility," Stano concluded.