Vucic: It's out of question to negotiate about the CSM within the French-German plan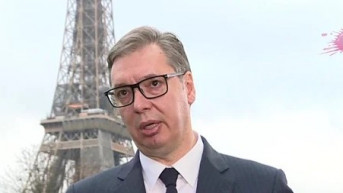 Source: Print Screen/Pink
President of the Republic of Serbia, Aleksandar Vucic, today rejected the idea to discuss the Community of Serb-majority Municipalities within the framework of the Franco-German plan, RTV Tanjug reports.
"How do you think that someone is giving us something that supposedly we should get from the final agreement when that should have been granted from the first agreement. We are small and weak, I'm not particularly smart, but I'm not an idiot either. Don't make idiots out of your leadership. No way will this happen," Vucic replied, commenting on media speculations that there is a three-point plan for Serbia to accept the request for the CSM to be discussed within the framework of the Franco-German plan.
Speaking about the statement of the American ambassador in Pristina, Jeffrey Hovenier, that he was worried about November 21, when Kurti announced penalties for Serbs who did not re-register their cars, Vucic said that Hovenier was afraid for reason.
As I am also scared, he added, because after the July crisis, at the end of August in Brussels, I said that we had a problem with identity cards.
"I said we will present something that is not easy for us, but it is within the framework of our policy and the Open Balkans, and it is something that is impossible for anyone to refuse. In order to overcome that situation, but regarding the plates, it is impossible," he said. Vucic.
He says that then they asked him to do it and said that they would take care of the plates.
"They said it was our job to convince Kurti to resolve it differently, and as you can see, nothing was resolved," said the President of Serbia.
He added that he said things he did not have to, just to show how we were left without a way out, which Serbs from all over Kosovo understood and now, as he points out, it is much more difficult.
"Now how am I going to tell them to return to the institutions tomorrow? Fortunately, they set the conditions themselves. There is nothing to do with that work until both conditions are met and that's it," said Vucic.