Djuric: Kurti wants to avoid the CSM, but the US is adamant that the CSM be established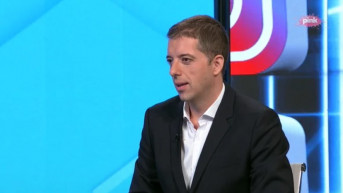 Source: TV Pink
Albin Kurti wishes to avoid the formation of the Community of Serb-majority Municipalities at all costs, but the US is now going much further in advocating for the idea of establishing a CSM, said the Serbian ambassador to the US Marko Djuric tonight, adding that he expects all parties, except for Kurti's, to support the formation of a CSM , which will create a more complex political situation for him.
Djuric said in the "Hit Tweet" show on TV Pink, regarding the draft of the CSM, which will be presented tomorrow in Pristina by the German non-governmental organization "Friedrich Ebert Foundation", that the way in which the CSM is formed is not something that should be negotiated, because it was agreed in 2013, and confirmed in 2015, when 22 principles were adopted, in which there is every detail about the formation of the Community.
"It is not formed by 'Friedrich Ebert', but by Serbs from Kosovo, and that was agreed in Brussels," Djuric noted.
He pointed out that it is completely clear that Kurti wants to avoid discussing the CSM at all costs, but also that many European partners did not sufficiently support the story of the CSM, because if they had, he notes, it would have already been formed.
"But, the new moment is that the USA, which contributed crucially to the creation of independent Kosovo, is today going much further in advocating and pushing the idea of the CSM. They are organizing a meeting in Pristina, to which all political parties have been invited, and I am guessing that the result of the meeting will be that all parties, except Kurti's, will support the formation of something like that, and that will create a far more complex political situation for Kurti," Djuric said.
The ambassador pointed out that the EU envoys, some of whom wanted to downplay and relativize the story of the CSM, encountered a louder, clearer and firmer answer in Belgrade - that the CSM is a condition of all conditions, for establishing basic trust in the dialogue.
"On the one hand, we have a clear path forward for Serbia, to continue the accelerated growth and development of the country, for an economically stronger Serbia," Djuric stressed.
He added that he does not want to enter into the format of the announced meeting in Pristina, but reiterates that the essence is that the Americans put the CSM on the table, and say that it must be implemented, "with or without Kurti".
"And they say that because it was made clear from Belgrade that the CSM is one red line, and the security of the Serbs in Kosovo and Metohija is another red line. And the way to success is that we try to be the best in everything," said Djuric.
More and more people in the US administration are ready to listen to Serbia, which bothers Pristina
Djuric also pointed out that there are more and more people in the American administration who are ready to listen to Serbia, and added that there is less and less mention of mutual recognition in America, which is met with criticism from the Kosovo Albanians.
He also said that it was extremely important that Serbia is present on the field, where the world map is being shaped.
"We should be focused on what is our national interest, which is to build the best possible relations with the USA, preserving, of course, the postulates of our foreign policy, openness towards others as well. We have built a serious political infrastructure in the US, at every political level. On a daily level, in the forest of negative articles and inertia of the 90s, it is important to be there and to stand up for the Serbian interest with deeds and words, as well as with initiatives," he explained.
Djuric said that there should be no illusions that the US position towards Kosovo will change.
"But if you have noticed, the topic of mutual recognition is mentioned less often, which has become an increasingly frequent remark of Kosovo Albanians. Albanians are increasingly attacking the hand that created them," he said. Djuric pointed out that it is good that the President of Serbia, Aleksandar Vucic, decided, in consultation with the Parliament Speaker, to appear in the Parliament and talk about Kosovo, only three months after the last discussion.
"There is no doubt that certain political entities will try to use this topic for daily politics," he is convinced.
Djuric points out that the situation is not like a year ago.
"What Albin Kurti started doing, he is doing in the context of what has been happening in Europe and the world since February of last year. He is trying, relying on the support of some, but not all, of the international community to push his agenda. It is important that we do not succumb to the euphoria of fans in the tragic war in Ukraine, and when it comes to a key internal national issue to listen to each other," he explained.
He said that in the previous ten years, Vucic was faced with no less pressure than the one in front of him.
Djuric reported that Vucic was even more harsh in his behavior at meetings than he was in public.
"Those who make the most noise in public, precisely at meetings in embassies, are very passive, and those who are more moderate and say what people don't like to hear, are harsher," he underlined.
Complaining to European representatives below every level
Regarding the allegation that representatives of the opposition criticized President Aleksandar Vucic at a meeting with MEPs Vladimir Bilčik and Matjaž Nemec, Djuric said that there was no reason for such behavior, and that complaining to the European representatives was "below any level".
He also stated that it would have been easier for Vucic if he had not received the EP deputies then everyone would have patted him on the shoulder, but he had received them  not to talk about internal political matters, but about the issue of protecting investments coming to Serbia, since some had objections to some investments coming from different parts of the world.
"Some had a problem as to why there are Russian or other investments, but when you confront them and ask them to say concretely, then there is 30 seconds of silence... Well, they say - we saw billboards, like this or that... Then why did you write in the report 'malign investments', instead of billboards... ", Djuric said.
In this regard, he reminded that, after the American ambassador Christopher Hill praised Serbia as a good address for investments, some politicians asked why he praised Serbia and did not talk about freedom of the media, human rights..., even though some of these people have private televisions.
Djuric also said that he wholeheartedly supports President Vucic in this fight, because he was with him in such situations.
"I look to the future with a lot of optimism, because we know that we have a stable relationship with the national issue, as well as a stable development of the state, and we just need wisdom and perseverance," Djuric concluded.
Dragoslav Bokan from the Institute for National Strategy said that Serbia was in a painful reality.
"We're walking on an unusual edge, and when you have to use every millimeter that's still here, someone laughs and comments that you're walking on the edge of treachery. Between what the state wants and what it can do, there is a chasm, and that chasm is only in front of the state," said Bokan.
He added that if we look at things from an oppositional political perspective, we see one thing, but from the state, national perspective, it looks completely different, and that is exactly why it is difficult for the state and easy for the opposition.
"You can look for Dusan's kingdom, whatever, but when you are a state, you have to take care of the present and future moments," said Bokan.
Biljana Sahrimanjan Obradovic from the Center for Strategic Analysis noted that investors left Russia very easily, and that we should not have the illusion that Serbia can do better.
"Aleksandar Vucic is trying and making efforts to get Serbia out of all geopolitical situations, to get the most out of everything. Everyone who says that the Franco-German proposal is something bad is wrong. We need to look at the good and bad sides of everything, see what we can get out of it and move forward," she said.
She added that it is clear how important that proposal is, and failure to accept it can only lead to the stagnation of Serbia's economic development and a drop in citizens' standards.