Office for Kosovo and Metohija: A Serb from Zvecan arrested at Jarinje while he was going to Nedeljkovic's funeral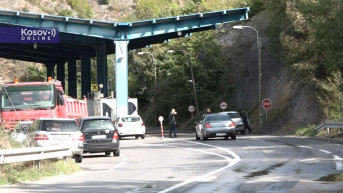 Source: Kosovo Online
The Office for Kosovo and Metohija has announced today that Lazar J., a Serb from Zvecan, was arrested today by the Kosovo Police at Jarinje while he was traveling with his family, friends, and fellow countrymen to the funeral of the tragically deceased Stefan Nedeljkovic, who will be laid to rest in Vrnjacka Banja.
"This inhumane and uncivilized act reveals the full anti-Serbian nature and the true face of the Albin Kurti regime and Pristina, for whom nothing is sacred, even the moment of the greatest sorrow and sadness of the Serbs, which they use for oppression and confrontation with our people," the Office for Kosovo and Metohija states.
It is emphasized that "the graves of the Serbs in Kosovo and Metohija are being destroyed and desecrated, and now the Serbs are being arrested when they are bidding farewell to their compatriot for eternal rest, which has never been seen anywhere in the world, but the international community will remain silent on this torture."
"Lazar was taken out of the car without reason, in which he was located, and he was detained at the Jarinje crossing, while the rest of the column of the Serbs heading to the funeral continued its journey to Vrnjacka Banja," the statement says.
The Office for Kosovo and Metohija has provided a lawyer who is trying to ascertain all the circumstances of his arrest.
"The moment chosen by Pristina for the detention of Lazar J. demonstrates the direct and calculated intention of Kurti and his extremists to make life difficult for the Serbs, to force them to leave their centuries-old homes and ethnically cleanse the north of Kosovo and Metohija of the Serbs through arrests, false charges, beatings, and insults on a national basis," the Office for Kosovo and Metohija emphasizes.
Throughout all of this, they point out, the international community remains silent and passively observes the torment and persecution of the Serbs, unwilling to reason with Kurti and prevent him from igniting the powder keg in these areas.