The family of Sladjan Trajkovic announced a protest in front of the Special Prosecutor's Office in Pristina for tomorrow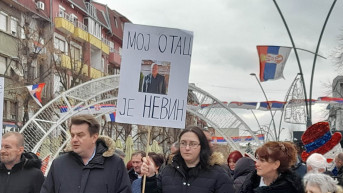 Source: Kosovo online
The family of ex-policeman Sladjan Trajkovic, who was arrested in mid-December on charges of participating in war crimes, has announced a protest in front of the Special Prosecutor's Office building in Pristina for tomorrow at nine o'clock.
Lawyer Dejan Vasic confirmed for Kosovo Online that "the Trajkovic family will protest in front of the premises of the Special Prosecutor's Office tomorrow".
"The goal of the protest is to point out to the public the gross injustice that the judicial authorities of Kosovo are doing to the suspect Sladjan Trajkovic by rejecting the request of the defense to defend himself released pending trial or possibly from house arrest.
We drew the court's attention to the fact that almost all residents of Kosovo, regardless of nationality, exercised this right. Our request is based on purely humanitarian reasons, considering that the health condition of suspect Trajkovic has deteriorated alarmingly and there is a danger of a fatal outcome if his treatment does not continue with the doctors of the Health Center in Kosovska Mitrovica, who know best the course and nature of his illness," Vasic said.
Sladjan Trajkovic was arrested on December 15 in Bosniak Mahala in North Mitrovica. He is charged with an alleged war crime against the civilian population. The Basic Court in Pristina extended his detention for another two months in mid-January.